Ann Marie Henaghan
Wednesday, December 28th, 1938 – Thursday, May 18th, 2023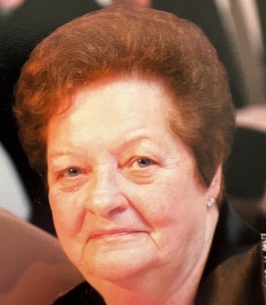 Ann Marie Henaghan (nee Reidy)
84, lifelong resident of Canaryville and devoted parishioner of St. Gabriel Parish, passed away May 18, 2023. Beloved wife of the late John Henaghan (Ballyglunin County Galway Ireland); loving mother of Sean (Lisa) Henaghan and Theresa (Tom) Beyer; cherished nana of Caitlin and Patrick Beyer; dearest sister of Timothy (Maryellen) Reidy and Monsignor Thomas Reidy. Loving sister-in-law of the late Tom (Bridie) Henaghan, Winnie (the late John) Hughes, the late Mick (the late Eileen) Henaghan, and the late Christopher Henaghan. Loving aunt to many nieces and nephews. Devoted cousin of the Kenny family (Ballyheigue, County Kerry). Cherished life-long friendships with and treated as part of the Connolly, Kilkelly & Kirby families
Ann was preceded in death by her parents Timothy and Mary Reidy (nee Hardy).
Services at McInerney Central Chapel, 4635 S. Wallace Street, Chicago, IL 60609 on Tuesday, May 23, 2023 from 3-9 pm. Funeral Wednesday, May 24, 2023 with chapel prayers at 9am to St. Gabriel Church, 600 W. 45th St., Chicago for a 10 am Mass of Christian Burial. Interment St. Mary Cemetery. In lieu of flowers, donations to St. Gabriel Parish, 4500 S Wallace, Chicago, IL 60609, would be appreciated.
Please visit ANN MARIE HENAGHAN book of memories. To express your thoughts or memories in the online guest book, visit http://WWW.CHAPELC.COM or FACEBOOK.COM/FUNERALMC. For information 773 268-0703 or 773 581-9000.
May 24, 2023 – 10:00am cst
The live stream will begin about 10 minutes before the service starts. Please press the play button in the player above. You will see a screen stating that the live stream will begin shortly along with some soft music to make sure your speakers are working properly. Once the stream has ended, the video will be available to view once it has been uploaded. We recommend using Google Chrome, Safari, Firefox or Microsoft Edge web browsers. Internet Explorer may not work due to Microsoft's discontinued support of the browser.