Andrew "Drew" Neely
Tuesday, October 14th, 1975 – Sunday, June 12th, 2022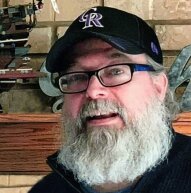 Andrew J. "Drew" Neely, age 46, loving father of Taylor and Keaton. Beloved son of Janice Neely and Ernest (Jinny) Neely. Dear brother of Ernest "Brian" Neely and Micah (Amanda) Neely. Cherished uncle of Camden Neely, Atira (Kael) Lundberg, Cian Neely, Claire Neely, and Paige Neely. Great uncle of Opal Lundberg. Fond nephew and cousin of many.
Drew was born on October 14, 1975, in Oak Lawn, Illinois and passed from this life into the arms of Jesus on June 12, 2022 in Chicago, Illinois. Drew, as we all knew him, was a gift from God to his family and friends. He was truly a wonderful man. His biggest achievement in this life was being a father to his two precious kids. He loved the Lord and accepted Jesus as his Savior at a young age.
He served faithfully at Mokena Baptist Church as their groundskeeper and in the music ministry. Drew has a passion for music and was a musician, singer, songwriter, and producer. He was the Owner of Off The Track Records, and lead singer of Drew Neely and the Heroes and played in several other bands over the years. He worked for Brand Design and as a music teacher imparting his knowledge of piano and guitar to many students over the years.
Drew had a wonderful sense of humor. He enjoyed joking and laughing with people and lit up a room whenever he walked into it. He loved his family with all his heart and enjoyed spending time with people he loved. He had a quick wit and loved to make people laugh. His passing will leave a void in our lives, but we know he's in heaven and we will see him again.
June 20, 2022 – 7:00 pm cst
The live stream will begin about 10 minutes before the service starts. Please press the play button in the player above. You will see a screen stating that the live stream will begin shortly along with some soft music to make sure your speakers are working properly. Once the stream has ended, the video will be available to view once it has been uploaded. We recommend using Google Chrome, Safari, Firefox or Microsoft Edge web browsers. Internet Explorer may not work due to Microsoft's discontinued support of the browser.