William Gudaitis
December 5, 1966 – Feburary 9, 2022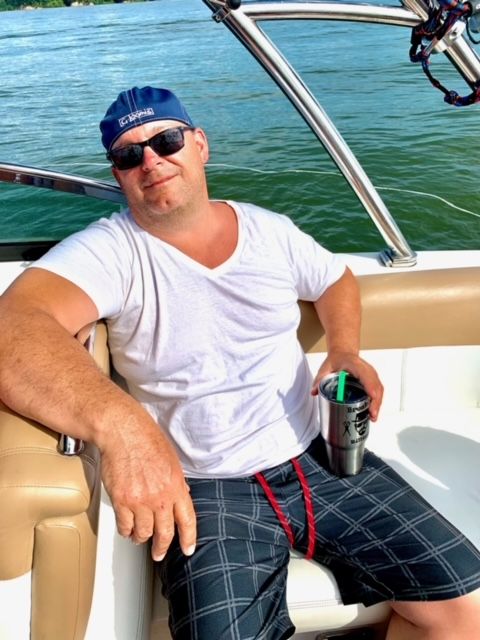 William Frank Gudaitis "Billy"- "Billiau"- "Bubba", 55 of New Lenox and formerly of Chicago passed away Wednesday evening February 9th with his loving family at his side. Beloved husband of Michele (nee Reis) for over 20 years. Proud and loving father of Devan and Addie Gudaitis. Loving son of Walter (Joyce) Gudaitis and the late Julianne Reidy. Fond son-in-law of Chuck and Carol Reis. Dear brother of Sean (Cathy) Gudiatis and brother-in-law of Jeff (Erin) Reis. Fun loving Uncle Billy to Quinn, Cate, and Ryan Gudaitis, and Uncle Bubba of Max and Alex Kukla. Forever and loyal companion of Bear who Billy affectionately referred to as "Stinko".
Billy and Michele met through Michele's cousin who invited him to a family camping trip in Lake of the Ozarks. Their connection began immediately when he opened his hatchback and offered his Bon Jovi tunes for the long ride ahead. As Billy did with everyone he met, they became fast friends and soulmates who married a few years later on September 14, 2001. They built their home and moved in on the expected birthdate of his Allstar baby boy Devan and were blessed with his little Princess Addie two years later. Billy was a devoted husband and father who coached soccer and baseball, and cheered intensely from the sidelines or seat of each and every game, dance recital or event. One look at his social media will tell anyone how proud he was of his kids and all of their accomplishments. While burritos and pizza were by far his favorite, he loved to cook extravagant and saucy meals to perfection for all to enjoy…sometimes leaving us curiously wondering about today's concoction. He loved his home and his yard and spent hours in the garden planting or trying to get his favorite trees and bushes to grow. After 15 years with the help of many friends and family members, he finally finished his beloved basement or "VIP" cave where he could watch his shows or superhero movies at a volume that shook the floors and could be heard by all. Billy was a man who made friends in a minute. He lit up a room by his presence alone and was the life of every party who was the first on the dance floor when a good tune came on. No matter where he went, he always ran into a friend or made a new friend, and would always say, "I got a guy", for anyone in need. He was honest, loyal, devoted, and loved his family and friends fiercely. He holds a place in everyone's heart and will be missed more than words can describe.
Visitation will take place Wednesday February 16th from 3:00 pm to 9:00 pm at Maher Funeral Home 17101 71st Avenue Tinley Park Illinois 60477. Friends and Family are asked to meet Thursday at 12:00 noon directly at St. Jude Catholic Church 241 West 2nd Avenue New Lenox Illinois 60451 for the Funeral Mass. Orrico Kourelis Funeral Services Inc. entrusted with all arrangements. In lieu of flowers the Gudiatis family asks that this summer you take the time to plant something beautiful and special in your own yard, something that will make you smile and think of Billy, and when you have the time, take a picture and send it to Michele, Devan, and Addie, so they can smile too. For all information and live stream instructions please see www.orricofuneral.com or 815/260-0668.
February 17, 2022 – 12:00 pm cst
The live stream will begin about 10 minutes before the service starts. Please press the play button in the player above. You will see a screen stating that the live stream will begin shortly along with some soft music to make sure your speakers are working properly. Once the stream has ended, the video will be available to view once it has been uploaded. We recommend using Google Chrome, Safari, Firefox or Microsoft Edge web browsers. Internet Explorer may not work due to Microsoft's discontinued support of the browser.