Joseph English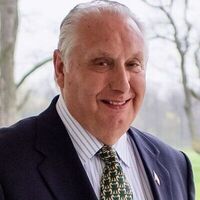 Joe English was born and raised on the family farm at Lodge, Hospital, Co. Limerick and attended the Christian Brothers School. He learned to drive at a very young age and it was this skill that brought him to the attention of the Gubbins family at nearby Kilfrush Stud as well as the Considine family at Derk House. After many years working on the large estates, Joe decided to emigrate to the US. In 1963, Joe was hired as an Assistant Manager at the Conrad Hilton in Chicago on the recommendation of Mrs. Gubbins to Conrad Hilton. From there he moved on to the Drake Hotel and eventually to the Holiday Inn on Lake Shore Drive. In 1970 he moved to the Holiday Inn in Oak Lawn where he remained the general manager for more than 20 years and raised his family. Joe was awarded Top 10 hotels in the chain numerous times and was named Innkeeper of the Year in 1975. He was active in the hotel industry and served as a director and officer of the Illinois Hotel and Motel Association and also served on the Congressional Travel and Tourism Caucus. He liked to share how he met President Reagan when secret service agent and fellow south-sider Tim McCarthy spotted him in the White House after a caucus event. Joe's passion for excellence was widely recognized and his hotel provided a training ground for some of the leading Irish hoteliers. Joe was also an avid golfer and member of Ridge Country Club where he spent many summer afternoons with friends. He was also a long-time member of the Lay Council at Mount Carmel High School and was awarded Carmel Man of the Year in 1992 for his many efforts on behalf of his adopted school. Later in life, Joe owned and operated Cook County Vending along with his wife Berry. Joe's greatest skill was his ability to befriend almost everyone he met. He recalled how he became good friends with the late Cardinal Cody by chatting with him in the lobby of the Drake Hotel and how he walked to mass each morning with the late Conrad Hilton when he was staying in Chicago. Throughout his career he hosted numerous celebrities, business and religious leaders as well as Chicago and Irish political figures, including a visit by the Prime Minister of Ireland, Jack Lynch, in 1979. Ultimately Joe was a man of his roots and his strongest connections were to his family in Ireland and numerous friends in the Irish American community in Chicago. He was a visible leader in the Irish-American community and his hotel was a hub of activities and a regular meeting place for many. He was a member of the Chicago St Patrick's Day Parade Committee; a director of Irish Fellowship Club of Chicago and founded the Chicago Limerickman's Association in 1968. As active as he was in the states, Joe was a frequent visitor to his homeland. He championed many causes in Ireland including the restoration of Holy Cross Abbey and sponsoring the James English Cup for Coursing in honor of his father. He escorted many politicians and dignitaries on visits to Ireland and forged deep business and cultural ties on both sides of the Atlantic. He also went to great lengths to help the next generation find their way with jobs and connections as they emigrated to the Chicago area. His continuous efforts on behalf of his homeland were recognized by the Limerick County Council. Joe is pre-deceased by his parents James and Bridget (Murnane) and his sister Tina Clifford. He is survived by his wife Brigid (Berry) English (nee Costello) children Mary Brennan, Tina Gallagher and Jim. Sisters Vera Butler and Maree Kelleher. Sons in Law Conal Gallagher and Daniel Brennan. Daughter in law Gretchen (nee Mount), and his eight grandchildren Brigid, Tiarnan, Megan, Liam, Niall, Clare, Maeve and Aidan. Joe will be welcomed in heaven by his family and friends and dearly missed by those he's left behind. His spirit will live on through the thousands of lives he touched through the years. Visitation Sunday, April 11, 2021 from 3:00 – 7:00 PM. Funeral Monday, April 12, 2021, 10:30 AM, from Thornridge Funeral Home (Janusz Family Funeral Service), 14318 S. LaGrange Road (Northbound traffic, U-turn permitted at 143rd Street) Orland Park, to St. Francis of Assisi Church, Orland Park, Mass 11:30 AM. Interment Holy Sepulchre Cemetery. In lieu of flowers donations can be made to the Mount Carmel High School Educational Foundation,
April 12, 2021 – 11:30am cst
The live stream will begin about 10 minutes before the service starts. Please press the play button in the player above. You will see a screen stating that the live stream will begin shortly along with some soft music to make sure your speakers are working properly. Once the stream has ended, the video will be available to view once it has been uploaded. We recommend using Google Chrome, Safari, Firefox or Microsoft Edge web browsers. Internet Explorer may not work due to Microsoft's discontinued support of the browser.