John "Tom" Haran
June 10, 1925 – August 7, 2022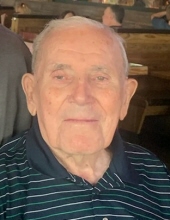 John "Tom" Haran, 97, native of Killure, Aclare, County Sligo, Ireland. Beloved husband of the late Margaret, nee Brown; devoted father of John (Patricia) Haran and Jeanne Haran; proud grandfather of Thomas, Samantha and Jessica; loving brother of the late Michael (the late Nellie), Jane (the late Joe) McDonnell and James Haran; also survived by many loving nieces, nephews and friends. Visitation Friday, August 12, 2022, 3:00 PM to 9:00 PM. Funeral Saturday, August 13, 2022, 8:30 AM from Curley Funeral Home, 6116 W. 111th Street, Chicago Ridge, IL 60415 to St. Bede the Venerable Church, 83rd Street & Kostner Avenue, Chicago, IL. Mass 9:30 AM. Interment Holy Sepulchre Cemetery. Member Sligo Association of Chicago and Chicago's Gaelic Park. In lieu of flowers, memorial donations to Mercy Home for Boys and Girls, www.mercyhome.org. will be appreciated. For funeral info.: 708-422-2700 or www.curleyfuneralhome.com.
August 13, 2022 – 9:30am cst
The live stream will begin about 10 minutes before the service starts. Please press the play button in the player above. You will see a screen stating that the live stream will begin shortly along with some soft music to make sure your speakers are working properly. Once the stream has ended, the video will be available to view once it has been uploaded. We recommend using Google Chrome, Safari, Firefox or Microsoft Edge web browsers. Internet Explorer may not work due to Microsoft's discontinued support of the browser.