Jayaseeli Jayasingh
November 29, 1939 – March 8, 2023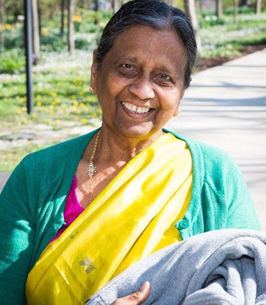 Jayaseeli "Mumma" Jayasingh lived a life full of love, service, and joy, and she left this world peacefully on Wednesday, March 8, 2023.
Mumma was a beloved mother, grandmother, great-grandmother, and friend. Her warm smile and endless kindness made everyone she met feel loved and cared for. She constantly dedicated herself to others, leaving her life in India behind to support her daughter Mallika and raise her grandchildren David and Supriya, and she loved being part of the lives of her son Daniel, his wife Uma, and their children Gabriel, Faith, Nathaniel, and Lily, as well as her son Prathap, his wife Nimmi, and their daughter Michelle. She especially adored her great-grandchildren Emery, Ezra, Marigold, Levi, and Crystal. She loved caring for people by sharing a prayer or meal, and she was renowned for her beautiful garden and unparalleled cooking. Mumma was a devout Christian, constantly reading scripture and praying for her loved ones. Her death is a profound loss to her family and community, but her love remains with us and always will.
March 13, 2023 – 12:00pm cst
The live stream will begin about 10 minutes before the service starts. Please press the play button in the player above. You will see a screen stating that the live stream will begin shortly along with some soft music to make sure your speakers are working properly. Once the stream has ended, the video will be available to view once it has been uploaded. We recommend using Google Chrome, Safari, Firefox or Microsoft Edge web browsers. Internet Explorer may not work due to Microsoft's discontinued support of the browser.