Maureen Clarke
September 18, 1951 – December 20, 2021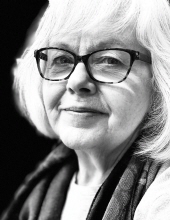 Clarke, Maureen R. nee Daley
Beloved wife of James P. Clarke C.P.D.
Loving mother of James (Elizabeth) and Jack (Jessica) Clarke.
Cherished grandmother of Liam, Declan, Rory, Ronan, Fiona, Howland, Mae, and Jaxon.
Loving daughter of the late Jack & Veronica Daley.
Fond sister of the late Fr. Jack Daley, James (Sue), Richard (Karen), Dr. Robert (Moira), William (Janet), and Martin (Megan) Daley.
Adored cousin, aunt, and friend of many.
Visitation Thursday 3-8 p.m.
Funeral Friday 9:15 a.m. from the Robert J. Sheehy and Sons Funeral Home, 9000 W. 151st Street, Orland Park, IL to Our Lady of the Woods Church, Mass 10:00 a.m.
Interment Holy Sepulchre Cemetery.
December 24, 2021 – 10:00 am cst
The live stream will begin about 10 minutes before the service starts. Please press the play button in the player above. You will see a screen stating that the live stream will begin shortly along with some soft music to make sure your speakers are working properly. Once the stream has ended, the video will be available to view once it has been uploaded. We recommend using Google Chrome, Safari, Firefox or Microsoft Edge web browsers. Internet Explorer may not work due to Microsoft's discontinued support of the browser.