Mary Jane Nogal
January 16, 1934 – March 16, 2021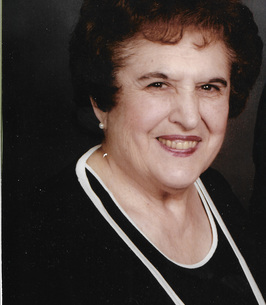 Mary Jane Nogal (nee Grevens), age 87, passed away peacefully on March 16 after a four-year characteristically courageous confrontation with lymphoma. She was the loving wife of the late Richard F. Nogal; mother of Richard J. (Kristine) Nogal, Garry R. (Deanna) Nogal, Alyce M. (late Wade) Poziombka; proud grandmother of Richard K. Nogal, Katherine (Nicholas) Espey, and Hailey Poziombka; devoted daughter of the late John N. and Jennie (nee Antonelli) Grevens. Mary Jane was a selfless volunteer who dedicated much of her life to the service of those in need. She was president of the Society of St. Vincent de Paul at St. Michael's Church in Orland Park, Illinois, and for District 10 of the Archdiocese of Chicago. She was a dedicated member and former president of Catholic Charities of Chicago Southwest. Visitation Friday, March 19, 3 to 8 pm, Funeral Saturday 8:45 am, from Lawn Funeral Home, 7732 W. 159th Street, Orland Park. Mass of Resurrection at St. Michael's Church, 14327 Highland Avenue, Orland Park, at 9:30 am on Saturday, March 20. On-line registration for Mass required at lawnfh.com. Due to the current health guidelines, we are limited to 50 attendees at a time. We kindly ask that you exit the funeral home after paying your respects to the family so that all visitors have an opportunity to enter. Masks and proper social distancing required. The coffee lounge is not available for use, please refrain from bringing food into the funeral home. Donations in Memory of Mary Jane can be made to Catholic Charities for the Archdiocese of Chicago (CatholicCharities.net) or Society of St. Vincent DePaul Chicago (StVincentdePaulChicago.org), both with addresses at 12731 S. Wood Street, Blue Island, Illinois.
March 20, 2021 – 9:30am cst
The live stream will begin about 10 minutes before the service starts. Please press the play button in the player above. You will see a screen stating that the live stream will begin shortly along with some soft music to make sure your speakers are working properly. Once the stream has ended, the video will be available to view once it has been uploaded. We recommend using Google Chrome, Safari, Firefox or Microsoft Edge web browsers. Internet Explorer may not work due to Microsoft's discontinued support of the browser.