Sister Regina Marie Dubickas, SSC, PsyD
June 25, 1946 – March 26, 2022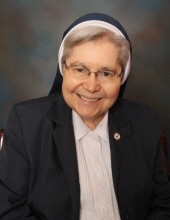 Congregational Leader, Formation Directress, Psychologist, Educator
Sister Regina Marie Dubickas, SSC, PsyD, 75, beloved member of the Sisters of St. Casimir for 54 years and General Superior, 2013-2022, died March 26, 2022. Sister Regina taught in elementary schools in Chicago, served the community as formation directress, ministered as a psychologist at Michael Reese Hospital and in private practice, and has been in leadership positions in the Congregation since 1998. Sister Regina is survived by her sister, Jean (Jack) Zilliox in Cape Cod, MA, nephews, Michael (Melvina) Zilliox in Milwaukee, WI, Matthew (Jeanne) Zilliox, in Andover, MA, John (Madeline Hartman) Zilliox, in Nottingham, NH, and niece, Karen (Zach) Brown, in Wedgefield, SC, and 4 grandnieces and grandnephews. Her parents, Jonas and Veronika Dubickas and her infant sister, Johanna, preceded Sister Regina in death. Visitation at the St. Casimir Center, 2601 W Marquette Road, Chicago, IL, Friday, April 1, 2022, 4:00 p.m. – 7:00 p.m., and Saturday, April 2, 2022, from 9:00 a.m. – 10:30 a.m. to be followed by Mass at 10:30 a.m. Internment, St. Casimir Cemetery. In lieu of flowers, donations may be made to the SSC Retirement Fund. www.sistersofstcasimir.org or 2601 W Marquette Road Chicago IL 60629
(Lack and Sons, Funeral Director).
April 1, 2022 – 11:15am cst
April 2, 2022 – 10:30am cst
The live stream will begin about 10 minutes before the service starts. Please press the play button in the player above. You will see a screen stating that the live stream will begin shortly along with some soft music to make sure your speakers are working properly. Once the stream has ended, the video will be available to view once it has been uploaded. We recommend using Google Chrome, Safari, Firefox or Microsoft Edge web browsers. Internet Explorer may not work due to Microsoft's discontinued support of the browser.