Theresa Ann Hughes
September 28th, 1925 – January 20th, 2023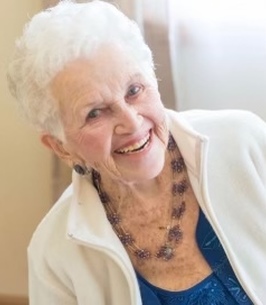 Theresa Ann Hughes (nee Gilmartin), age 97, beloved wife of the late Michael J. "Mickey" Hughes; loving mother of Michael (Susan) Hughes, Marilyn (Tom) Magdziasz, Theresa (Thomas) Hebda, Kathy Hughes (Ralph Sanchez), Karen (Mark) Muench, Ellen (Earl) Morrissey, Joe (Barbara) Hughes, and the late Geri, Daniel (late Maureen), Patrick, and John Hughes. Dearest grandmother of Michael Hughes, Carolyn (George) Wilmot, Daniel Hughes, Thomas (Ann) Magdziasz, Heather Hughes (Ken Dillenkoffer), Leanne (Michael) Costas, Samantha (Ron) Bossard, Matthew Muench, Earl (Meg) Morrissey, Mick Muench, Mark Muench, Megan Muench, Courtney Hughes, John Hughes, and Patrick Hughes; great-grandmother of Keri Ellen and Mary Kate Wilmot, Nicole and Amber Magdziasz, Haley Hughes, Jack Dillenkoffer, Maura and Conor Costas, and Henry Bossard; fond aunt of many nieces and nephews; cherished friend to all who knew her.
Preceded in death by her parents James and Mary (Loftus) Gilmartin; her siblings James (late Julie), Beatrice (late Edward) Browne, John (late Margaret), Charles (late Genevieve), Dorothy (late Frank) Bodry, and George (late Patricia) Gilmartin; and her in-laws Jack, Geraldine, Gertrude, Dan (late Jean), and Stephen "Pat", Hughes.
A proud mother of eleven, 40+ year volunteer at Mercy Hospital, lifelong member of St. Gabriel Parish, and member of the Mercy Hospital Women's Board. Theresa enjoyed snow-birding in Florida, lake-living in Sister Lakes Michigan, and spending time with her dear friends at Marian Village.
In honor of Theresa's eleven children who are all graduates of St. Gabriel School and in lieu of flowers, donations may be made to the St. Gabriel School Fund, 4500 South Wallace St., Chicago, IL 60609.
Services will be held at St. Gabriel Church, 600 W. 45th Street, Chicago, IL 60609, where friends and family will gather on Thursday, January 26, 2023 from 5-8pm. Mass of Christian Burial at 10am on Friday, January 27, 2023 at St. Gabriel Church. Interment private.
January 27, 2023 – 10:00am cst
The live stream will begin about 10 minutes before the service starts. Please press the play button in the player above. You will see a screen stating that the live stream will begin shortly along with some soft music to make sure your speakers are working properly. Once the stream has ended, the video will be available to view once it has been uploaded. We recommend using Google Chrome, Safari, Firefox or Microsoft Edge web browsers. Internet Explorer may not work due to Microsoft's discontinued support of the browser.